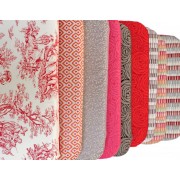 Our different cushions collections – Categories Ondes Audacieuses
Our cushions are decorated with "Toiles de Mayenne" fabrics, which we have selected for their top-of-the-line quality, their refinement and their background history. Let you be tempted by a pattern, or a color, and you will make the best choice.
49,00 €

This padded cushion is entirely made in France. It blends features related to meditation with a unique design. The choice of upmarket fabrics (Toiles de Mayenne), and the particular attention given...