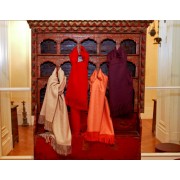 Throws
Our throws are wonderfully soft. They are entirely made of velvety baby alpaca wool. Baby alpaca provides a snug touch, warmth, and yet remains light. This wool is hypoallergenic, which allows even the most sensitive skins to enjoy its unique virtues.
Alpaca wool (and particularly that of the baby) is known as one of the daintiest and most luxurious fabrics in the world. It is used in upmarket making, and is softer, warmer, lighter and more resistant than sheep wool. It acts as a natural thermostat, preserving the body's warmth when it's cold, and letting it go when the temperature rises.
We fetch our throws in America, home of the alpaca, in a farm where alpacas are bred with tenderness.
Inspirations