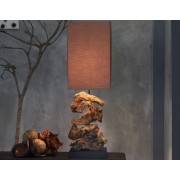 Lamps – Couleur dark-brown
We fell in love with these lamps for three reasons : their design, their recycled materials and their polished handmade making. They are made of waste wood: fallen branches, roots, abandoned trunks... Each lamp is crafted in order to fit the wood it is made of, in the hands of a craftsman who knows how to make to best out of every item. Thus, each lamp is truly unique.
SpiritOpus lamps come from Thailand, where the forests in the North offer a great variety of recovered wood. Our workshop collects and enhances it, and offers it a happy and bright new life.