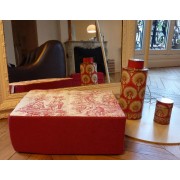 Our cloisonne pots collections – Categories Zebra
Our collections of tea jars are inspired by the journeys of their designers. Most of them have been conceived by Fabienne Jouvin, and one of them - Libellules Rouges - was imagined by Loulou de la Falaise. Between the thin copper partitions, the chiseled enamel offers its delicate patterns...
295,00 €

From the Blue Zebra collection, this majestuous vase is adorned with thin enamel stripes, in matching shades of blue. It takes you to wonderful places, between heaven and the bright blue sea. It is...