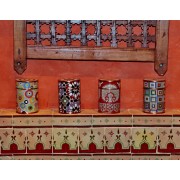 Cloisonne pots – Categories All cloisonne pots
These cloisonne pots originate from an ancestral Chinese technique. Their motifs are drawn by Fabienne Jouvin, a French artist passionate about the Chinese culture. Subsequently, the jars are entirely handmade near Beijing, by local craftsmen. On the bottom, made of copper, strips of copper are welded, and shape cavities that gather coloured enamel. After the firing, three phases of polishing enable the enamel to reach its true color and glow.
The patterns, inspired by the journeys of the designer Fabienne Jouvin, match all interiors, as well as our cushions...