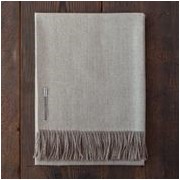 Herringbone throws – Couleur light-brown
Our throws made of baby alpaca are wonderfully soft. Their wool is six to seven times warmer than that of sheep, while being much lighter, hypoallergenic and stain-resistant. These stoles will be your best friends, during meditation, cool summer evenings or cold winters. Decorated with herringbone patterns, they have unmatched elegance.
296,00 €

Allow yourself the luxury and refinement of this warm sand throw with herringbone patterns. To feel as good as if you were on a warm sandy beach...